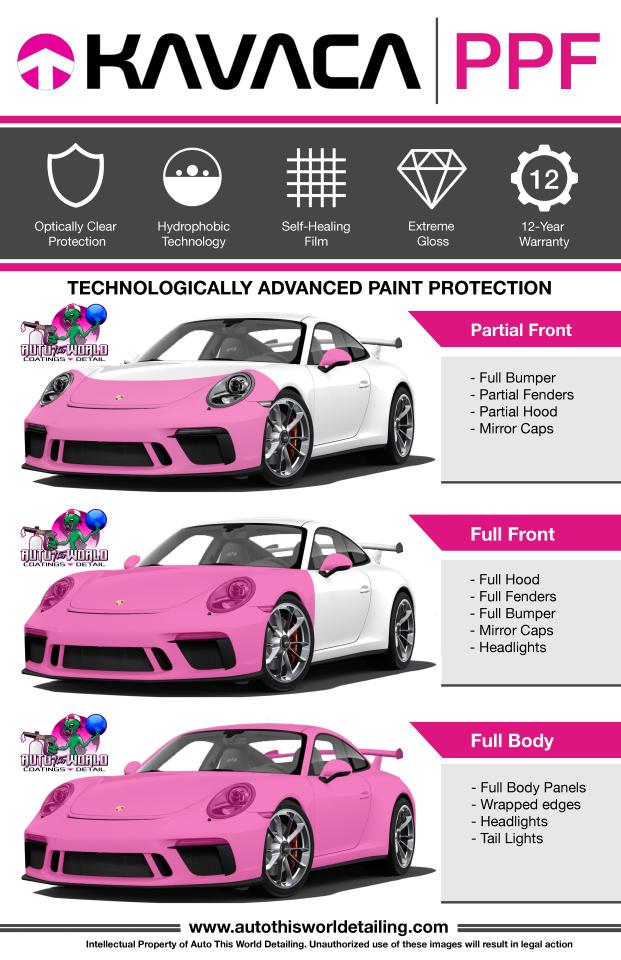 In regards to Clear Bra Phoenix, our team at Auto This World Coatings & Detail know paint protection like complete professionals, and that's why we are wizards when it comes to installing Clear Bra, also known as Paint Protection Film. If you've been searching for Clear Bra Phoenix to protect your vehicle from nature's elements here in Phoenix, then you've chose the right place. Choosing to add Clear Bra to your vehicle is an awesome way to protect your paint from rock chips, scratches, dirt, debris. Revolutionary changes in the automotive industry give us the choice to to add a very durable layer of film to protect your paint from Phoenix's elements. The Clear Bra is not even visible and will not change the appearance of your vehicle. The Clear Bra is instant self healing and ensure no swirling and marring will occur in your paint.
The Clear Bra is a clear invisible film that is very strong meant to protect your cars paint. Our location offers a variety of different Clear Bra Phoenix packages to protect chosen areas of your car that are exposed to rock chips, and easily scratched. Our team are experts at installing Clear Bra to any vehicle. We will create customer cutout designs to ensure each piece will fit to the car. The partial kit is a great choice to protect your bumper, headlights, partial of the hood and side mirrors. The full kit will provide complete protection to have your whole car protected from top to bottom. We make sure that we use the highest quality brands when it comes to Clear Bra which is why our choice is Ceramic Pro Kavaca. The film includes a 12 year warranty from cracking, peeling, fading or yellowing. If you've thought about adding Clear Bra to your car then no need to look farther other than our ready to help team at Auto This World Coatings & Detail. End the search for Clear Bra Phoenix at our shop today.
CLEAR BRA PROTECTS AGAINST
> Paint Chipping
> Rock Chips
> Road Salt
> Bugs
> Scratches
> Tree Sap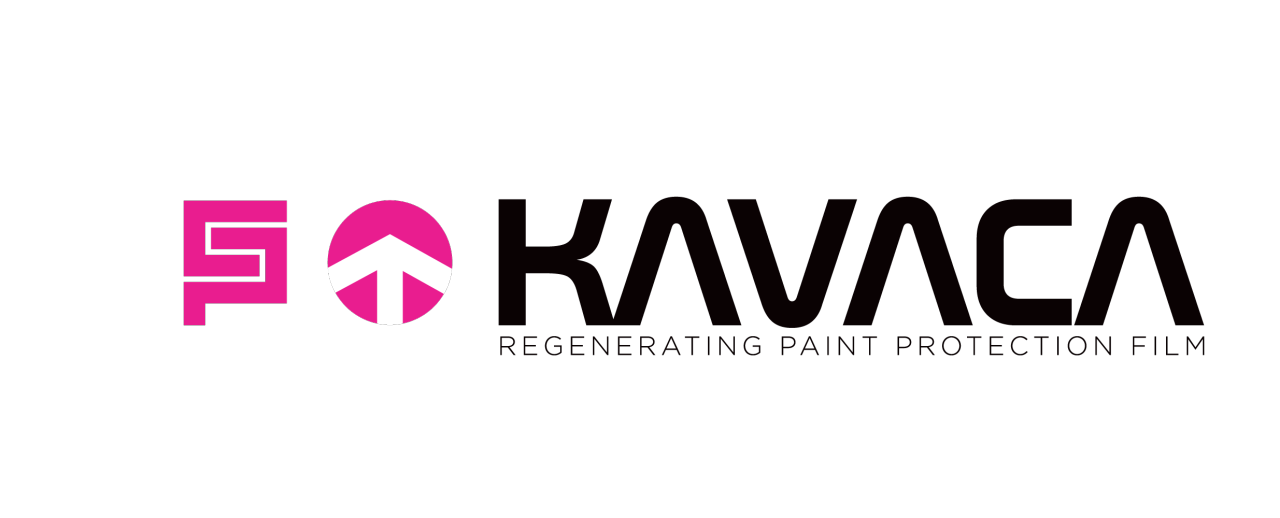 RECOMMENDED PACKAGE: FULL FRONT KIT
> Full coverage of hood (wrapped edges)
> Full fender coverage (wrapped edges)
> Bumper coverage
> Front side mirrors
> Headlights
> Rear luggage area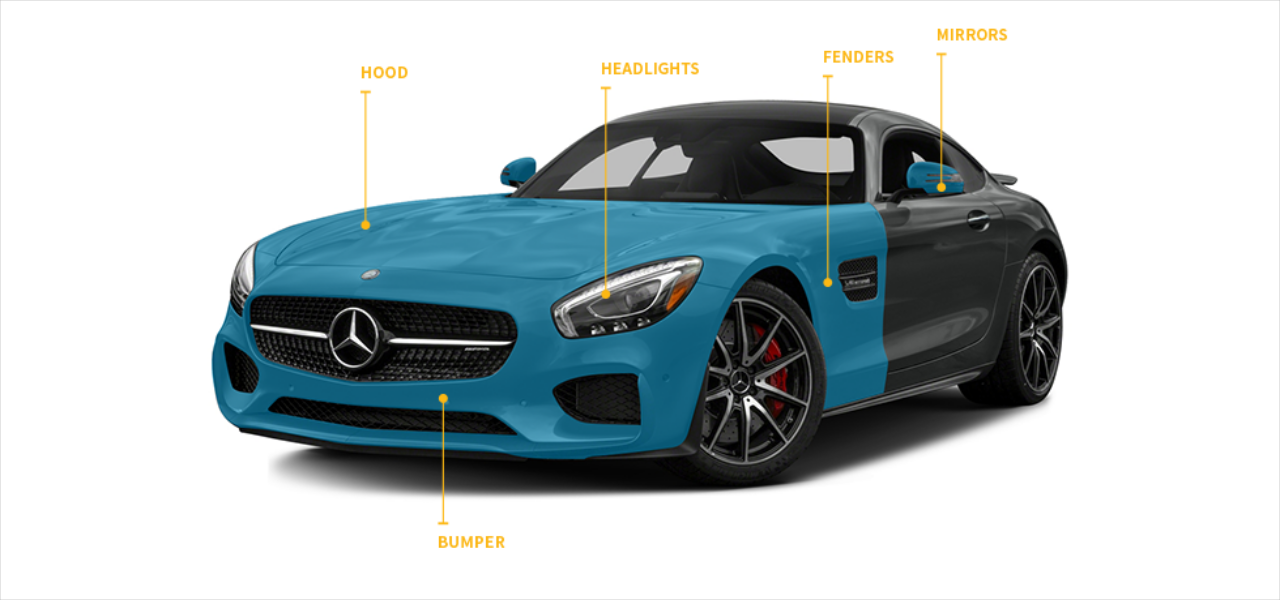 WE USE THE BEST CLEAR BRA ON THE MARKET
We invest a large sum of our money on our cars and we proudly show off what we've got. People work very hard to pay for their cars and it's also a huge investment we're choosing. If we are able to get ourselves to spend thousands on a brand new vehicle, why are we not choosing to protect it and create longevity with the best paint protection on the market. Straight from the dealership lot our vehicle begins to take damage one by one from the elements day by day. If it's either rocks astray on the highway, swarms of bugs, or extreme weather conditions it's important to protect your cars paint. For the ultimate paint protection, our experts recommend clear bra and Ceramic Pro in conjunction.
Kavaca Phoenix professionally installed by the team at Auto This World Coatings & Detail. Kavaca is a huge advancement in the clear bra market and is created by the NanoShine Group. Kavaca means Armor and originates from Sanskrit. Kavaca is one of the most durable Clear Bra films available in the automotive industry. Our experts at Auto This World Coatings & Detail provide the highest quality of services while using the best products available on the market. Kavaca Phoenix is the best paint protection film on the market with its unmatched instant healing ability, and durability no other film compares to.
Our expert opinion is to combine one of the Ceramic Pro Packages with our Kavaca Phoenix packages for extreme paint protection for your car. Kavaca was made by the same creators of Ceramic Pro only using the highest grade of raw materials you can find. We understand how important it is to keep your vehicle looking beautiful, and that's why our technicians at Auto This World Coatings & Detail are certified installers of Kavaca Phoenix clear bra. Kavaca is very hydrophobic and has insane anti yellowing properties. The top coat is nano infused and excells at giving your vehicle crazy gloss while helping prevent swirls and rock chips on your paint. Allow our team at Auto This World Coatings & Detail to protect your investment for years to come. The film is cut to fit the parts of your car with perfection for ultimate paint protection on the most vulnerable of areas of your car. Kavaca is a armor for your car. Protecting your investment for years to come with the best clear bra on the market is a no brainer. Request a free quote for our Kavaca Phoenix packages today.